After living in Colorado for about a month, it was time to venture more into the mountains. Jordan Katterheinrich and I met up in Nederland, Colorado after work on a Friday to hike into the woods 4-6 miles and set up camp. We made it roughly 100 feet before stopping to take photos and videos. This is what you get when you have two photographers on a trip. The trail was a mixture of a couple hikes and you can view the route on
alltrails
.
There was rain the entire time till we set up camp. As annoying it is to deal with wet clothes, it was pretty nice and made for great photos.
Lost Lake is a short hike in and has 7 campsites around the lake. Since we had already made it in a bit, we decided to scope out the spot for a future trip. It is a pretty nice lake to spend a weekend but you do need to book a permit.
In order to limit the wet clothes, I went shirtless for majority of the hike just incase I needed all my layers for the low temps later that night...which I did. I had been rocking the
Osprey Exos 58L
 for a couple hikes now, one of which was a 21.6 mile hike. It was a huge upgrade from my previous pack, High Sierra Titan 55L. For the first night, I had it loaded with roughly 37 lbs (yes, that is including the beer and bourbon). Prior to the hike, before I loaded it up, lifting the bag felt like lifting air. It blows my mind every time. The construction of the bag makes hauling weight a lot more manageable than previous packs. Plus the webbing on your back has lots of breathability while hiking and it doesn't itch when shirtless. Also, it is a great place to stash snacks for quick access.
While the forest grew thicker, night fall quickly swept over us. The ground was soaked and we pushed through to find a more covered area with a pine needle floor so we weren't setting up our tents in a swamp. We found a spot near the river at roughly 11,000 ft elevation. Perfect for a great night sleep. We put on all our layers and quickly made food. Killed some beers and finished the bourbon to make sure we had a warm night sleep which worked for a couple of hours. The weather dropped into the 20s which was right on the line for my
Nemo Disco Spoon Sleeping Bag
. A wet and high altitude night is never a recipe for a warm night.
The next morning, the light was magical and a great way to start the day. We packed up camp, filled up water and stretched for a long day of walking. We had roughly 11-12 miles to do.
Shout out to
Alps Mountaineering Chaos 2 tent
. It's way too big for backpacking alone but its lighter than my single person tent so I only have one option when I am not car camping right now. The organization inside, quality material and ease of setting up is a triple threat.
Footage from the video was taken by
Jordan Katterheinrich
and myself. I deleted all my footage so I had to screen record off of Instagram. Sorry for the dropped frames :)
This is just about when things got a little gnarly. We said goodbye to King Lake and started up a rocky incline that lasted longer than anyone wanted it to. The wind up here was next level. It would push you sideways and backwards every 3-5 seconds. We were above most mountains here at 12,000+ feet elevation. This was also the start of our dry spell for water and cover.
I never believe in packing a tripod because you can easily make one on the fly, it just takes awhile. Above, you can see me somewhat defeated trying to build a tripod out of rocks as I am blasted in the face by wind all while ants crawl into my shorts. I have no idea why they would do that because it couldn't have smelled great in there.
The stoke level was boosted on the start of the descent. The views were far too epic and I couldn't stop taking photos/videos. This is when I realized the Colorado Rockies are indeed picturesque. 
Slowly we crept below the tree tops and a bittersweet feeling came over me. The epic views were slowly disappearing and it was clear we needed to break for lunch to make the most of it. We stopped at Devil's Thumb Lake to soak our feet and knees in while trying to eat everything that was left to lower the weight in our packs. At this point we had hiked 11.3 out of the 18.3 miles we were doing.
After venturing a little further down the trail, we were greeted with Jasper Lake which did not disappoint. If I hadn't just eaten all my food, I would have seriously thought about camping another night. This area is so picturesque and very much worth another visit.
One thing I appreciated but didn't document that well is the abundance of wildflowers throughout the hike. It was a great site to see nature flourish in its prime.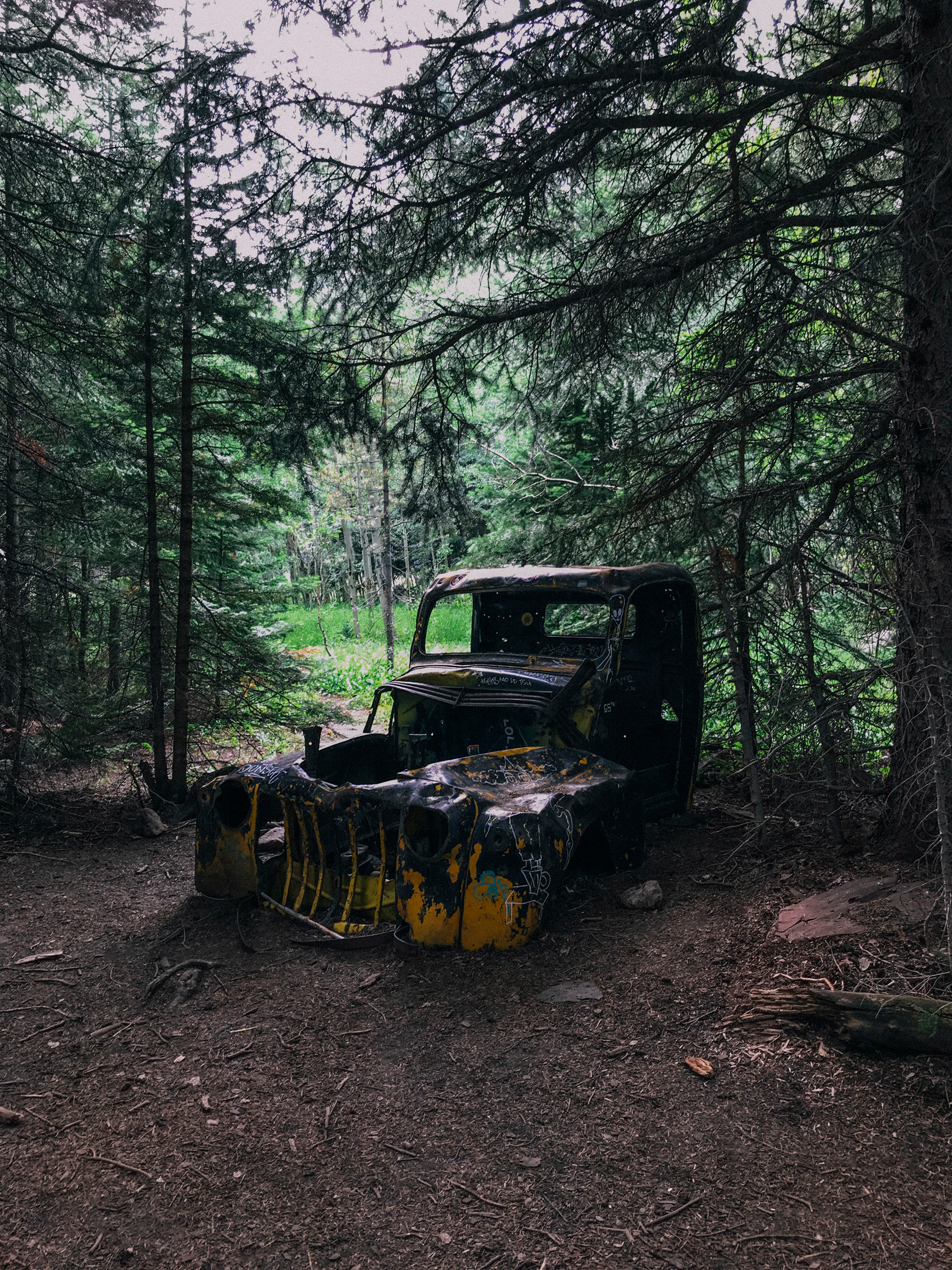 You better believe we had cold victory beers waiting for us in the truck. All in all, the hike was a couple miles too long for just 24 hours of wilderness. Perhaps breaking it up into 36 hours and taking some more time to relax, I would have felt differently. On the scale of if it was worth it or not, it was 100% worth it.