We landed March 9th around dinner time. Once we got to my Uncle Joey's house we headed down to the bar for food and drinks. Calling it an early night, the next morning we walked to get our rental car. Stopping to take photos and check out a nursery along the way. Once we had the car, we grabbed some fuel at Trejo's Coffee and Donuts. After packing up the car and saying farewell to my sick uncle, we hit Santa Monica to walk the beach. From there we made our way to San Bernardino but had to take the long way because the road had been covered with a land slide. We stopped by a massive windmill farm along the way, set up camp at Pinyon Flat and watched the sunset.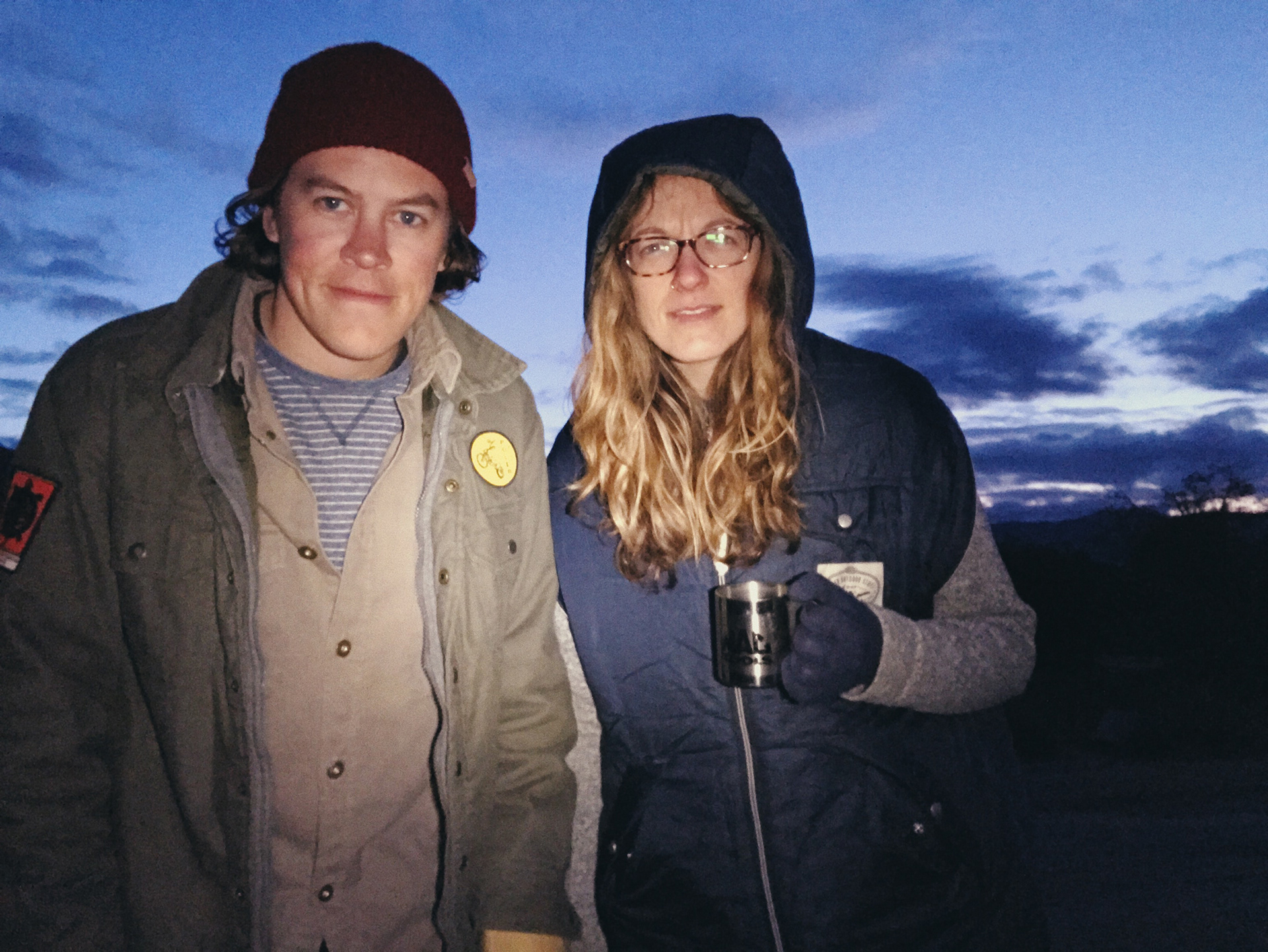 That night we enjoyed the stars with some whiskey. The weather felt colder than we thought it would feel. We walked around the campground and took a few photos. The next morning I couldn't sleep so I took some sunrise photos and hung out in the car to warm up till Danielle woke up. Down the street was Sugar Loaf Cafe where they had vegan options and coffee, everything Danielle needs in life. We then made our way to Joshua Tree. Driving from full campground to full campground, we finally found Belle Campground with plenty of spots. After setting up camp and climbing some rocks, it was time to check out Cholla Cactus Garden Trail. On our way back to our campground, we stopped at Skull Rock to do some exploring. That night we had a fire while it sprinkled rain on us. I ate crunchy rice that never cooked all the way.

That morning, the sun was super warm and the fog had been dancing around the area. We went for a little walk to take photos and enjoy the view. Not sure if the rain was going to come, we said fuck it and drove to Hall of Horrors where we were going to climb. Danielle brought the 5 gallon jug of water to weigh her down so she could belay me. We did a couple climbs, took a couple of photos and had super cold feet/hands. Before heading to our Airbnb that night, we stopped off at Painted Canyon Trail which was a random place I found last minute that looked really cool. It involved taking a dirt road with a couple dried up river crossings. Once we got to the trailhead, we went as far as we could go without needing lights to get back. From there we drove to our airbnb at the Salton Sea which turned out to be super windy and full of nude pin up portraits. It was a super clear night out but the wind was too much to handle. We were super hungry and wanted food but there wasn't much around us. Actually there was nothing around us besides a bar so we cooked food at the airbnb. The next morning we packed up as they started hammering away at the place, it was under construction. We took a turn down a random dirt road because I wanted to see the sea and we randomly ran into Danielles highschool friend, Fern plus some bunnies.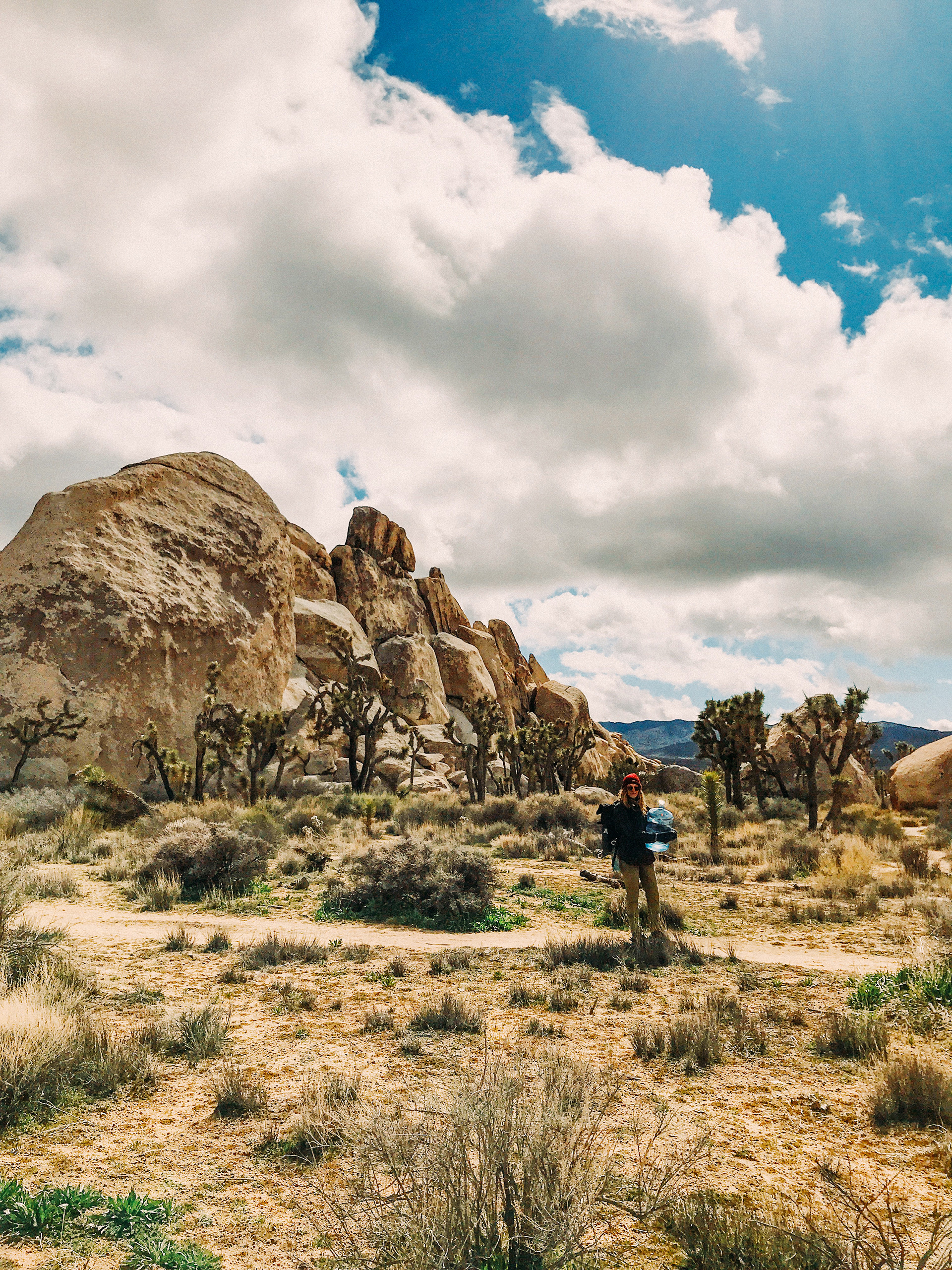 At Hall of Horrors in Joshua Tree, the rock was sharp and cold. This made for great grip but short desire to climb more than a couple of routes. Our fingers felt like we were playing with razor blades. Since it was suppose to rain all day, we were the only ones there.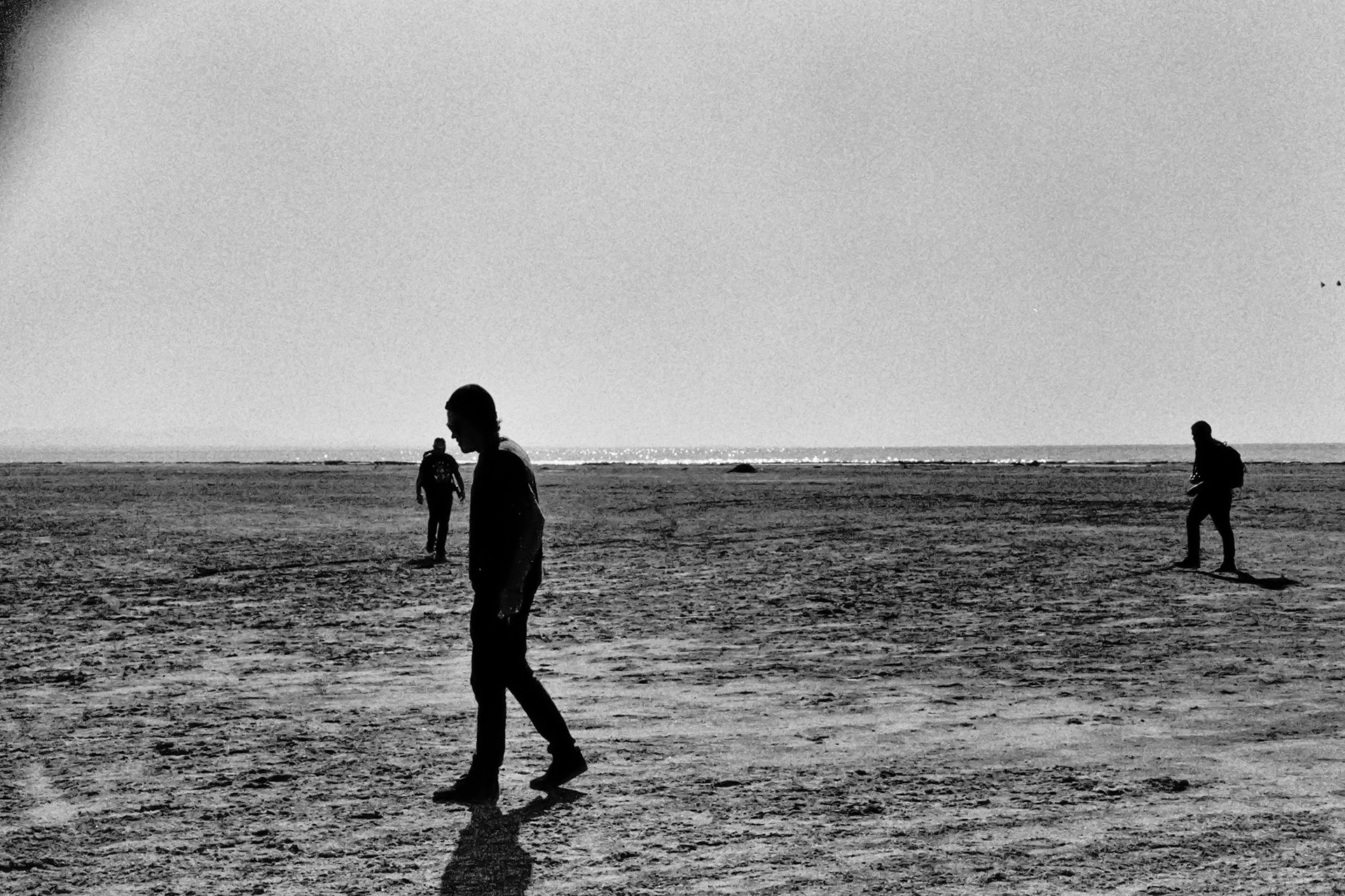 Later that day, after killing a bunch of butterflies, we stumbled on North Algodones Sand Dunes. Running around barefoot and taking photos was a work out but such a cool experience. We couldn't stay long because we had a long day of driving. Stopping in Sonoran Desert National Monument because they have massive cactus we got a photo under one that was at least 6 times our height. On our way into Tonto National Forest, we drove through some snow which was a nice pleasant surprise. The surprise that wasn't so pleasant was that I thought we had plenty of gas but we did not and I screwed up while you were driving. This was the time when I taught Danielle how to conserve gas as much as possible, coasting and trying to not use the brakes. We played blink 182 to calm the nerves. Some how we got lucky, coasting into Jakes Corner which only had a gas station/bar. We also didn't have service to make matters more stressful. Now that we were properly fueled, we made it to Houston Mesa Campground with some light to spare. After setting up camp and chopping some wood, we headed towards Payson to grab some food and a bottle of bourbon to help me warm up through the cold. This was the night I ended up puncturing my sleeping pad on some pine tree twigs and woke up on the cold ground. Temperatures hovered around high 20s that night.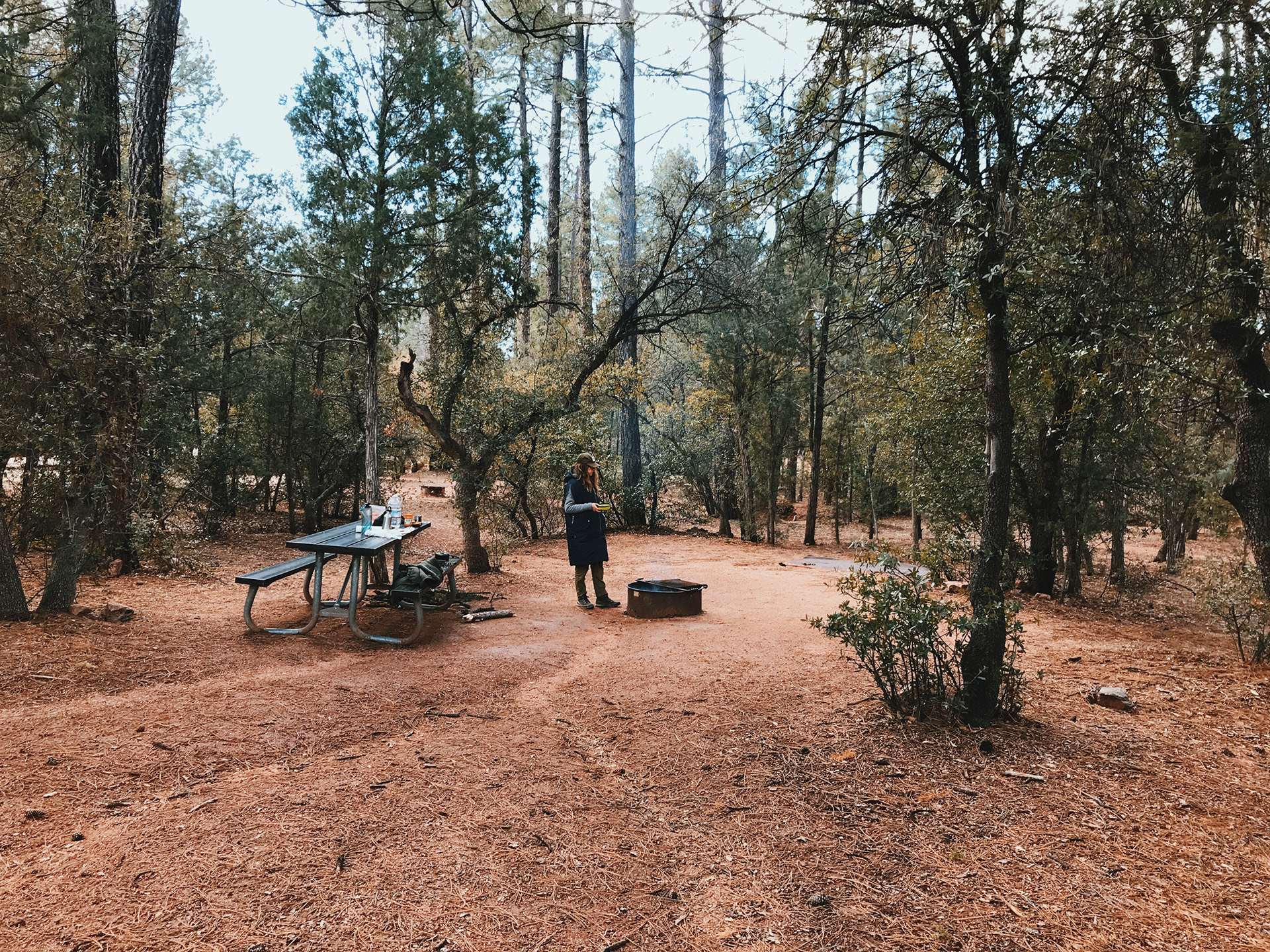 As I was running slow and sore, Danielle was packing up and making food in her napsack. To make the fire, we used some of the worst wood that we bought at Home Depot the night before. After eating breakfast, we headed into Sedona which felt like a parking lot at times. The trails we ended up hiking were Brins Messa, Soldiers Pass & Jordan Trail making a big 10 mile loop. There were so many river crossings that we decided to count them which ended up being 28°F. Once we got back to the car right at sunset, we headed to Manzanita Campground. We both cleaned up in the freezing bathrooms and added plenty of layers to make it through the night. Since my sleeping pad had a puncture, I laid out all my clothes on the ground so I had a barrier between the cold ground. The temperature was recorded to be 25°F but we were right by the river which made me believe it was even colder.
That next day, our goal was to hit some of the smaller hikes. We started out with Doe Mountain where it was rather windy. No better way to wake up than a face full of wind is what I like to say. Then we made our way up Cathedral Rock which was a steady climb and congested. On our way out of Sedona, we decided to hit Bell Rock which is where Danielle led the charge on going off trail. I was ready for an easy hike but she had something else in mind which would lead us into a crack climb where we had to wedge our bodies in-between rocks to make our way to the top. I kept taking photos and she proceeded to yell at me for taking photos. Once we got to the top, we realized there was no easy route down other than the same side we just climbed up. This was a nerve racking feeling knowing our safety was 100% in our hands without any rope. We ended up making it back to the car safely and enjoyed an epic sunset on our way to our Airbnb at Arcosanti. Before making it to Arcosanti, we stopped off at a fantastic Mexican restaurant that was on our way. After being stuffed with cheap beer, burritos and fajitas, we relied on the GPS and directions from the email to lead us to the compound safely but it led us down some dirt roads that were private. After turning around multiple times, we finally made it.

That morning we walked around the compound for a bit, enjoyed the art and headed to Phoenix to check out the Desert Botanical Garden where they were having a huge cactus sale. It was our hottest day of the trip, 65°F. We explored the entire park, especially the butterfly nursery. Not knowing what to do with the rest of our day, we went to downtown Scottsdale for some food which is where we found out it was spring training for the MLB and a total party area. After that we headed to Papago Park to hangout for a little and then it was time to catch our late night plane back home on the 16th.